TAKE CLIMATE ACTION AT WORK
We help HR play a pro-active role in the transformation to a future net-zero culture
Our app let the HR-department support employees that want to take collective climate action at work
Get more info
The app is educating and empowering like minded coworkers to take immediate climate action associated with work. 
The app create a climate community at work and let the it's users work together to help their organisation realize  future climate goals.
Taking climate action together can 
help foster meaningful connections within the community and drive positive change in an area that employees are concerned about
.
These climate concerned employees want to be included in your organisations climate conversation………you just have to let them in !
Swiss Re's Climate Action programme results 2022:
30,000 individual acts of climate activism by the eatablished climate community.
1,500 tonnes of direct removal through carbon certificates.
A cumulative direct removal of thousands of tonnes globally.
Swiss Re is a major global insurance and service company. We are one of the first service organisations to help our employees create a voluntarily global climate community by offering them an app that can facilitate the community's climate actions, education and dialog inside the company.
The Climate Savior app helped us create a climate community by identifying those equal minded coworkers that want to take individual and team-based climate action and empower them to work together to help Envision reduce its future CO2 emissions.
It is fun and meaningful and an effective way to develop and build a new company climate community across organizational boundaries and educate people on the topic and why its so important. Over time climate action will be come part of the company culture.
Built for organisations of all shapes and size
When it comes to solving climate change, every kg of CO₂ saved matters. That's why we built Climate Savior as an inclusive solution to help

organizations

of all shapes and sizes build a voluntarily climate community among equal minded employees that want to take individual and team-based climate action at their workplace.

Over time, as the consequences of climate change become more and more obvious to all employees,

we believe that more and more employees will join a climate community at work and it will become an integrated part of the company culture.

With out ambitious

climate goals and a strategy for empowering its employees to take climate action we believe many companies will loss out in the fight for future talent and employees.

Deloittes global 2023 Gen Z and Millennial shows climate action is a top-three decision maker for choice of employment in those demographics.

Hence HR organisations need to lead this transformation inside companies by taking responsibility for creating these communities. This is one of the ways HR can help with solving climate change.



For more info please contact sales support by writing to email: kontakt@climatesavior.com
Build a climate community within your four walls
Give your employees a market-leading community app to identify fellow coworkers that also want to discuss and get educated about what can be done at work to help solve climate change.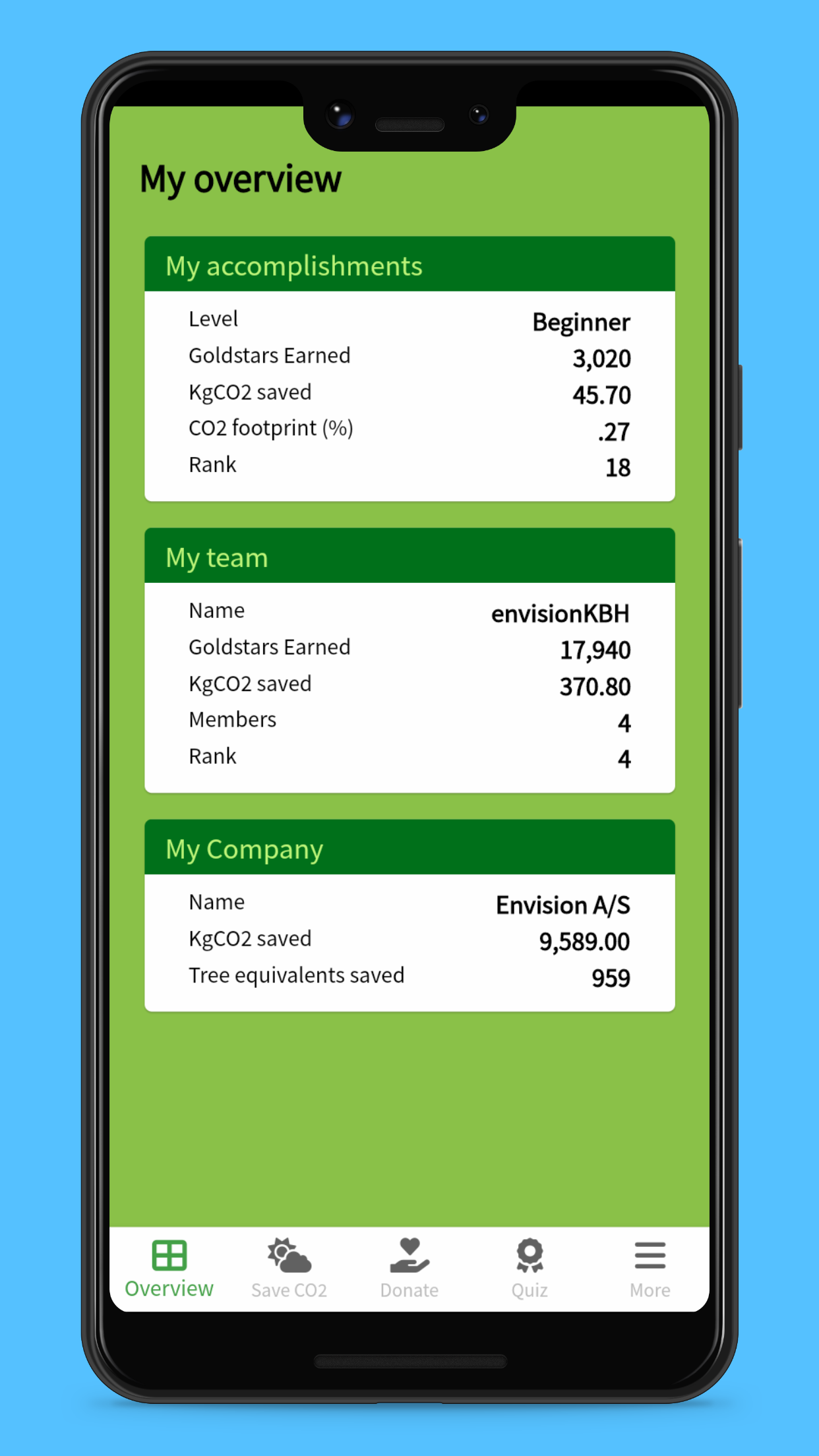 Measure employee CO2 savings
For inspiration everyone in the organisation can follow, through our intranet Dashboard Solution, the climate community's CO2 savings from climate actions like e.g. travel, commutes, ride-sharing, meals, consumption and more.
Furthermore the app include a tool that allow the users to calculate their own CO2 footprint and get a more detailed understanding of their CO2 emission.
Give your employees some valuable tools to take climate action
Our app empower your climate community with a number of valuable tools to take individual  and team-based climate action: e.g. a community chat solution, climate challenges, lottery, climate academy, dashboards, quiz, brainstorming ideas for company action, etc.
Reward those employees that take climate action
The app help you reduce your employees individual and team-based CO2 emissions associated with work and participate in the discussion about what can be done to solve climate change.
It also  allow you as an organisation to reward the participating employees for their CO2 actions through the apps lottery feature.  
By utilising "gamification" our app makes it more fun for the employees to actively participate in the workplaces climate community.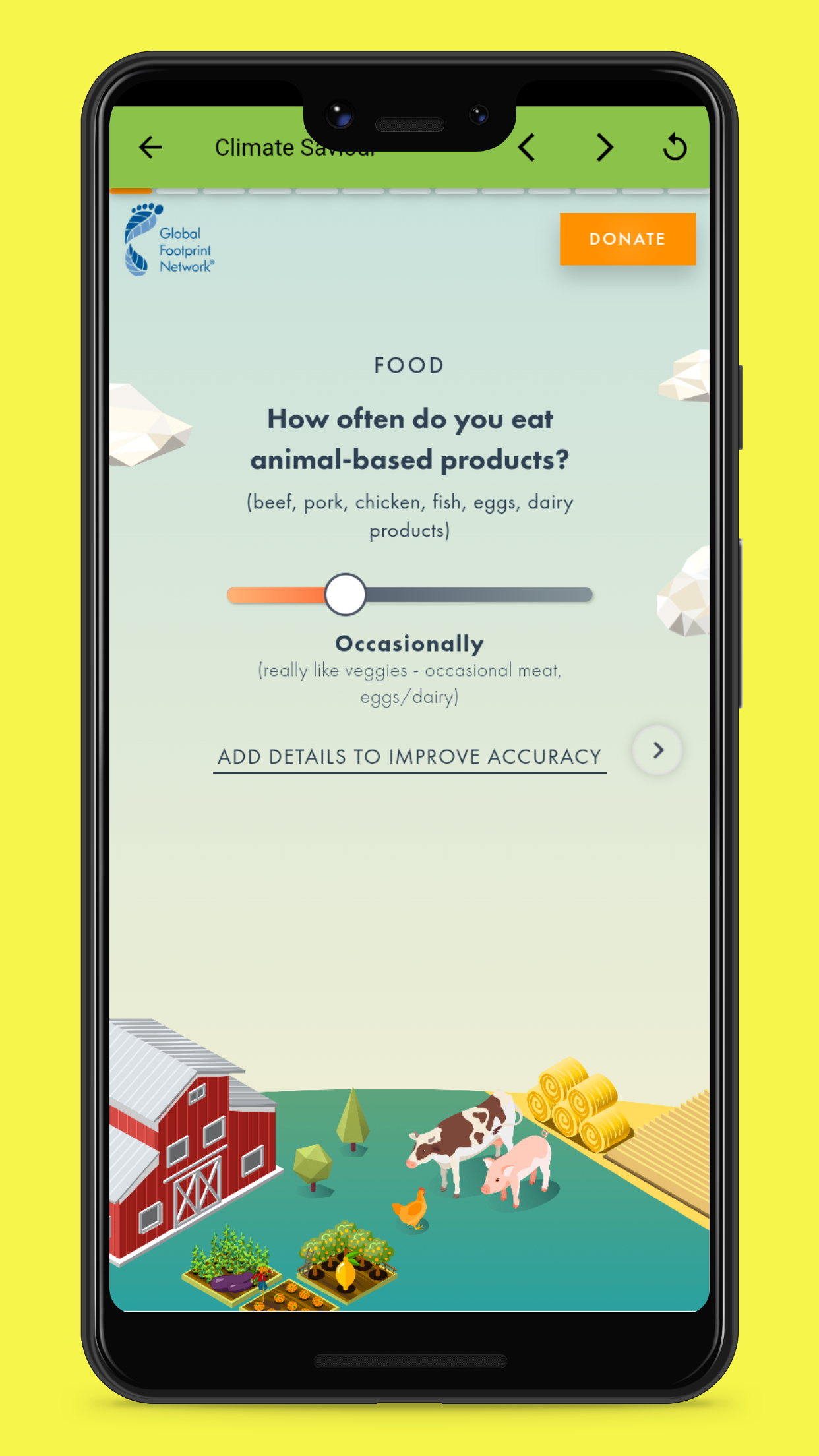 What do our customers say
We have a goal of becoming a net zero advertising company in the future with a climate positive culture and values. Our employees are 80% of our companys CO2 footprint.
As an element of that strategy, we chose to give all employees the climate app Climate Savior.
The good thing about the Climate Savior app is that it help employees identify fellow coworkers that want to take climate action at their workplace. Together this climate community has become an internal climate movement that help the leadership team realise our future climate goals.
Furthermore, the app also measures how much CO2 the community collectively save by changing habits and doing climate deeds and that act as an inspiration for not participating coworkers. They can follow the community actions through an intranet Dashboard.
The gamification element in the app makes it all more fun and employees and teams can compete on who saves the most CO2 at work and win attractive climate friendly prices in the build-in company lottery. Prices that we as a company sponsor in order to reward and incentives climate actions among our employees.
BIG CHANGE START SMALL
We can all save a lot of CO2 emissions if employees make some small changes of their behavior at work and participate with ideas to how companies can reduce their footprint. The figure illustrates this (source: goldstandard.org).
It illustrates that big change start small. If e.g. 1  billion employees globally each save 5 tons CO2 per year we will have reduced the global CO2 emissions by 5 Giga ton CO2 every year or equal to 15% of total global CO2e emissions !.
The work community represent the perfect social setting for changing behaviors because all research show that if we want to change habits its much easier if we do it together with our coworkers.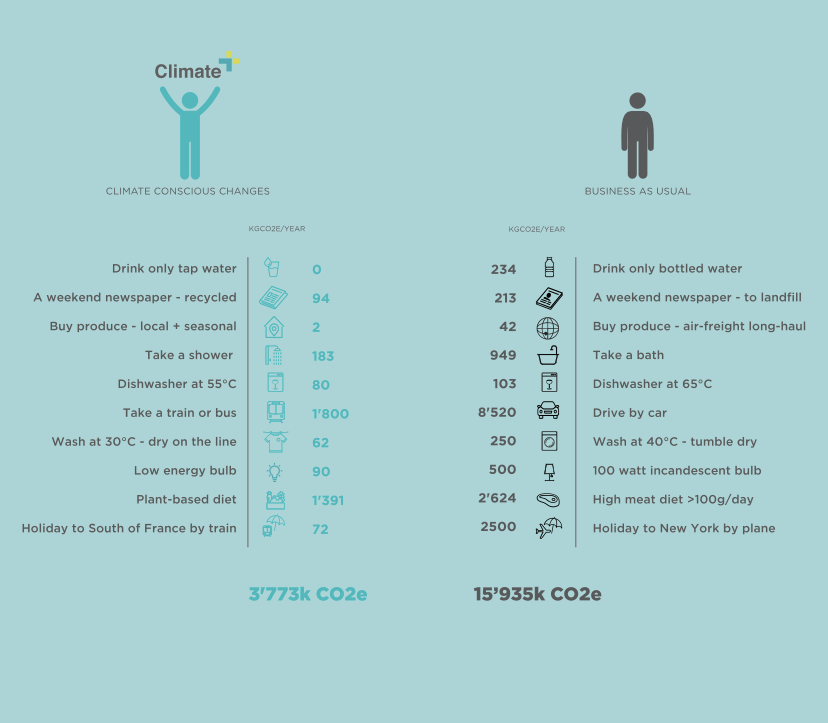 PRICING
CLIMATE ACTION AT WORK
1 Euro per active user
/

Monthly
Your company only pay for active users equal to users that has made a login to the app during a month. You don't pay anything for inactive app users that has downloaded the app but stopped using it.
ABOUT US
WE DONATE 50% OF PROFITS TO CLIMATE NGO'S
Palle Simonsen
Founder
Climate Savior was founded in 2019 and is located in Sofia, Bulgaria. For 3 years, we have developed our B2B climate app community solution Climate Savior.
A B2B app that can help all type of organisations engage and educate employees on climate change and empower employeess to develop an internal climate community where they together can take climate actions in order to reduce the work related CO2 emission but also debate and coordinate how to help their organisation meet its climate goals and targets.
Our motto is: Big Change Start Small !