BIG CHANGE START SMALL
INVITE YOUR EMPLOYEES OR CITIZENS TO START EDUCATING THEMSELF ON CLIMATE CHANGE AND HOW TO SAVE CO2
BOOK DEMO
The Climate Savior app gave us an opportunity to go into the topic and understand how we easily can do changes without sacrificing our whole life but really find new sustainable habits and deeds that feel good to do every day at work or privately. It was a fun and meaningful.
"When it comes to tackling the climate crisis, every step matters. Anyone can take action, and everyone can contribute. 
Frans Timmermans
Executive Vice-President of the European Commission
Do you wish for people inside your community (e.g. citizens in a municipality or employees inside an organisation) to start educating themself on what climate change is all about and to understand what individuals can do to make climate actions in order to reduce their CO2 footprint ? If Yes then we can help you with our Climate Savior app. It's an app targeted all type of communities.
The app automatically through its functionality creates an informal social network inside any community that use our app.
When we work together, share and encourage one another, we have the ability to make big change by starting small. Social science studies show that the most effective way to change individual habits and lifestyles is when we do it together with other humans (e.g. co-workers or citizens) in a formal or informal network inside any community.
Another way to motivate a community to make climate actions is by challenging its members to a 4 week Climate Challenge. A climate challenge can be a fun way to introduce any community to climate change as a topic and provide inspiration for what we as individuals and communities can do to mitigate the problem.
That's why we support the global Employee Climate Challenge movement: Count Us in. Organisationens that have challenge their employees have saved more than 175 mio kg/CO2.
App demo: kontakt@climatesavior.com
The apps overview screen show how munch CO2 has been saved by all users in the community. It also show CO2 savings by individuals and teams and how they rank compared to others in the community.
To save CO2 the app provide he user with inspiration for how to do it at work and in private. The app can be set to update new CO2 saving behaviors automatically once they have become a habit.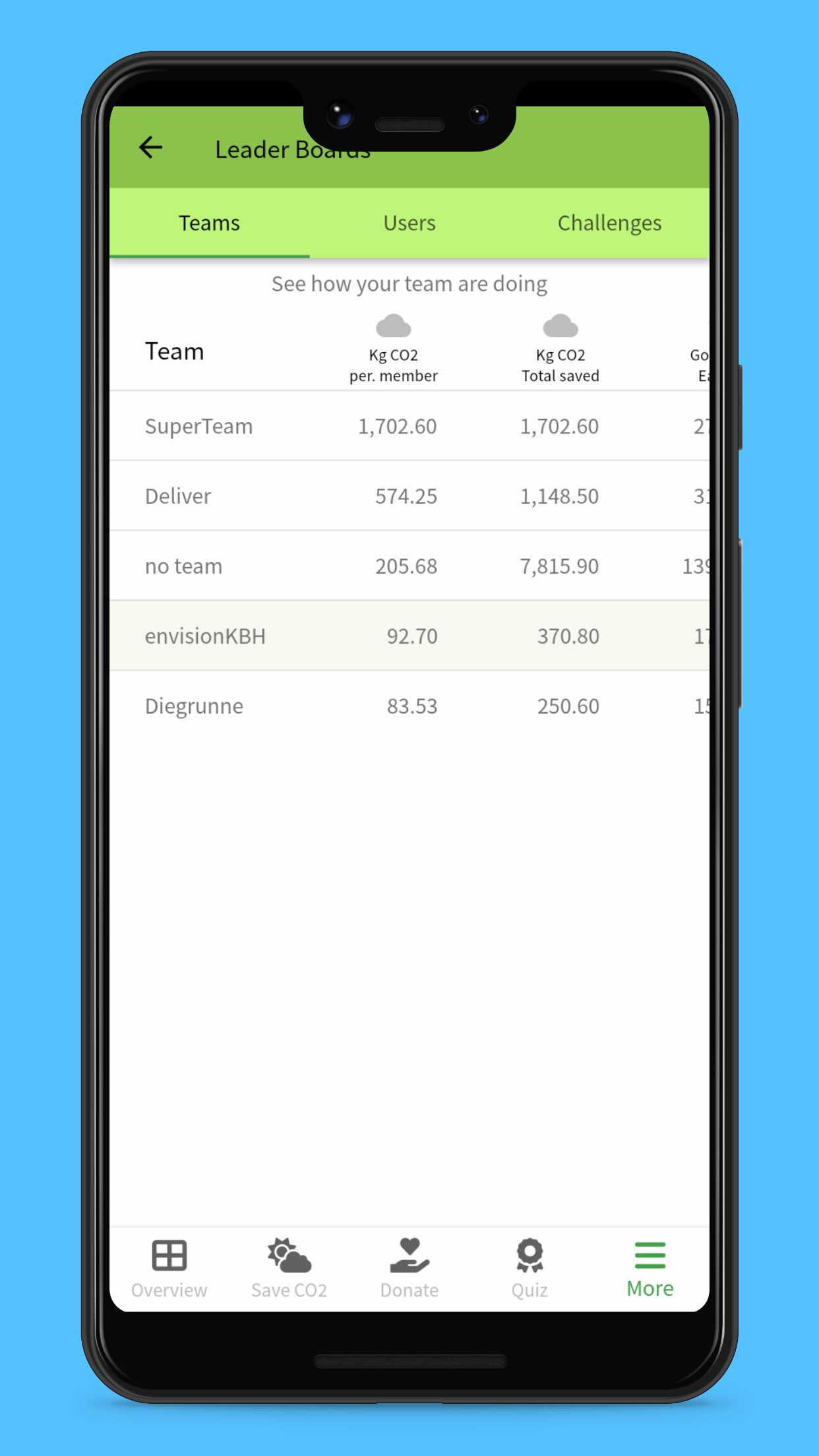 The app incorporates multiple gamification elements between teams and individual users. The Leaderboards show the ranking of individuals. It also show the most popular climate actions as inspiration for others.
The app include a CO2 calculator where the users by answering some individual questions about their lifestyle can calculate an individual CO2 footprint for a full year and an individual Earth Overshoot Day.
We have a goal of becoming a more sustainable company in the future with a climate positive culture and values.
As an element of that strategy, we chose to do an Climate Challenge over 4 weeks with Climate Savior as a  partner. All managers and employees gained access to the app from Climate Savior.
The good thing about the Climate Savior app is that it both educates in general about climate change and helps with how to save CO2 at work and in private.
Furthermore, the app also measures how much CO2 we as a company collectively save by changing habits and doing climate deeds and how much teams and the individual employee save.
The gamification element in the app from Climate Savior makes it all more fun and employees and teams can compete on who saves the most CO2.
Employees and managers have welcomed our Climate Challenge as a fun and meaningful event.
Likewise, our board of directors, shareholders and customers have been positive about the event.
 BIG CHANGE START SMALL
We can all save a lot of CO2 emissions if we as individuals make some small changes of our behavior and lifestyle at work and privately. The climate figure illustrates that (source: goldstandard.org.)
It also illustrates that big change start small. If 100 million users (citizens and employees) each save 10 tons CO2 per year  we will have reduced the global CO2 emissions by 1 Giga tons CO2!.
Palle Simonsen
Founder
Climate Savior was founded in 2019 and is located in Sofia, Bulgaria. For 3 years, we have developed our app solution Climate Savior.
A B2B app that can help all type of communities (e.g. municipalities or companies) to engage and educate individuals (citizens or employees) on climate change and how to take climate-friendly actions at work and at home in order to save CO2.
Our motto is: Big Change Start Small !